SIMPLE STRAP 2MM REGULAR DUTY (800 PSI)
WHY SIMPLE STRAP?
The Challenge:
Rope is difficult to get tight and you have to tie knots.
Tape is a one-time use and leaves sticky residue.
Bungee cords are dangerous and you are limited by the length between hooks.
Ratchets rust and are complicated to operate.
Belt buckles are limited to the size, a single wrap, and have metal protruding outwards.
The Solution:
It pulls tight with no knots necessary.
It Strap is reusable and won't leave sticky residue.
Simple Strap cuts to the length you want with no hazardous hooks.
It  won't rust and isn't complicated.
Simple Strap can wrap around your object multiple times with no metal pieces sticking out.
Simple Strap Specifications:
Simply the fastest & easiest way to secure pretty much anything.
800 PSI Regular Duty (2mm thick)
20 feet long
Cut to length
Ideal for construction, household, camping, bundling lumber, rebar, pipes, boating/fishing, roof racks, awnings, surfboards, canoes, repairing woodcraft, storm prep & much more
Works when wet, in the dirt & in extreme temperatures
No complicated knots, no hazardous hooks & no rusty ratchets
Recyclable & reusable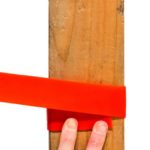 Step 1: Cut Simple Strap™ to desired length.
Step 2: Tightly wrap Simple Strap around the object(s) to be secured, ensure that the second wrap is in contact with/over the first wrap to allow friction to hold the wraps in place. At least three wraps around the object(s) are recommended to ensure a safe and secure bind.
Step 3: To finish, simply tuck the remaining end under the last/previous wrap to secure and test the bind by pulling on the object(s). If the wrap is not tight or items are loose then repeat step 2. Simple Strap is self-gripping, there is no need to tie knots.
Additional information
| | |
| --- | --- |
| Colors | Red, Yellow, Black |