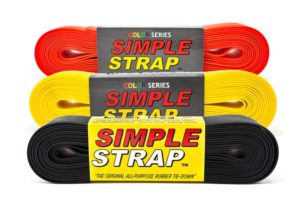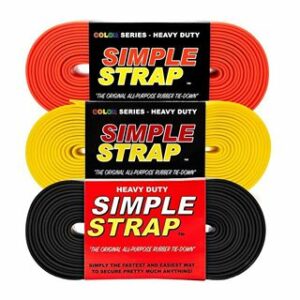 July 1st, 2020
Simple Strap Fit
Wales, WI:  Today Fletcher Products LLC, an e-commerce company specializing in quality products for the powersports industry, is pleased to partner with Simple Strap LLC to carry the entire line of Rubber Tie Down products.  Adding the Simple Strap line to the website brings a new, unique way to secure your items without the risk of damaging the surface. 
Unique Features
Simple Strap is the original self-gripping, no ratchet, no buckle, no residue, water proof reusable strap that keeps your items tight.  Available in 2mm regular duty or 3mm heavy duty thickness, the 20′ long strap can be cut to whatever size you need with a simple pair of scissors or a knife.  Buy yours at www.fletcherproducts.com/tie-downs-and-straps/simple-strap/
Simple Straps can be used to:
Secure loose boards and pipe to each other or racks
Strap equipment to vehicles
Keep your supplies from moving around
Hold odd shaped parts together when gluing them
Hold ladders on racks
Even as a door stop when rolled up!
Adding the Simple Strap product line to the existing products carried is a great complementary fit for Fletcher Products and continues in the growth of products available for all of your powersports needs.
About Fletcher Products LLC: www.fletcherproducts.com is an e-commerce site based in Wales, WI and focuses on quality products for the powersports industry.  As a family-owned company, Fletcher Products prides itself on working primarily with other family-owned companies offering an often unique product in their category.  You can also find them on Facebook at Fletcher Products LLC.